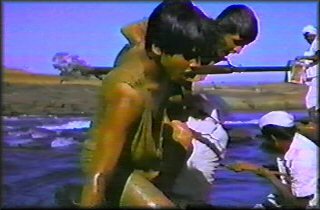 MAYA (1967-1968) NBC

In September 1966, NBC announced that it was adding MAYA, based on the 1966 MGM film, to the 1967/68 schedule. The series would be the first U.S. one filmed entirely on location in India. It would be based on the adventures of Terry Bowen (Jay North) and his friends, Raji (Sajid Khan) and Maya, the elephant, as Terry searches for his missing father. The show's executive producers were Frank King and Maurice King, with notable writer, Stirling Silliphant, taking on the role of story editor.

In early 1967, a production crew of 22, led by executive producer, Frank King, and producer, Harry Franklin, headed to India. In January, Jay and Sajid began filming their scenes on location in India. The 18 episodes to be filmed were largely filmed within a 90 mile radius of Bombay (Mumbai). An additional eight episodes were to go into production in the fall/winter of 1967. In a July AP news story, producers Frank and Maurice King, reported that, "...in our first episode, several scenes are filmed in and outside of a maharaja's palace...We're taking our time--two weeks for each episode--and we're trying to get it right...We've had our problems, of course. For example, transportation has been difficult...But in our favour, we have an excellent crew, including Americans, Germans, and Indians. We have the full co-operation of the Indian government."

Off camera, Sajid and Jay passed what little time they had in the long filming schedules with listening to music and coaching local children in football games. Before the cameras, they coped admirably with close-up action scenes. In a December 1968 TV Guide article, it was reported that one of the first episodes ("Blood of the Tiger") had a scene "so hazardous Jay and Sajid thought they were going to be swept over a dam." Although stunt doubles were to be used to wade across a fast moving river, it turned out Sajid and Jay were in better shape to film the scene themselves. Both actors were swept towards a 500 foot waterfall as the cameras continued to roll. According to the article, '"That's the worst thing we ever did," Sajid shuddered. "We were really getting panicky."' Fortunately, the two boys made it safely across the river in the one take.
Towards the latter part of the eight month schedule, production relocated from Bombay to Srinagar in the Kashmir area. The film company moved its headquarters to a former palace of the maharaja of Kashmnir. On location, a feuding group of locals tossed rocks down the hill onto the film crew and the actors took cover.

After eight months of filming and with 18 episodes complete, both Sajid and Jay travelled to the U.S. MAYA began airing on September 16th on the NBC network. Reviewers generally praised the exotic locales of the show and the performances of Jay and Sajid. One tv columnist, Bob Mackenzie, of the Oakland Tribute wrote, "Kids will be wild about it, and grownups can pretend to tune it in 'for the children'...If there is any justice, MAYA, will be one of the season's biggest hits. A child who doesn't care for the notion of owning a pet elephant is in need of medical care, and an adult who would pass up a scenic tour of India is probably dead from the neck up..."