Before India's film industry became widely known in the world as Bollywood for its prolific and entertaining films, a young Indian actor, Sajid Khan, was achieving widespread international success. From the 1950's to the 1980's, Sajid worked in films, television, and the music industry. His picture appeared on the covers and in the pages of magazines from the United States, France, Japan, Mexico, Germany and Thailand. Today, fans around the world share many favourite "Sajid moments". In India there are memories of Sajid in classic dramatic films. In the Philippines, Sajid was a matinee star paired with their favourite leading ladies. In North America, Sajid was a fan favourite on national U.S. television shows, such as MAYA, AMERICAN BANDSTAND, HAPPENING '68, THE BIG VALLEY and his own SAJID tv special.

Throughout his career, Sajid worked with many well known personalities in the entertainment industry. These included Mehboob Khan, Nargis, Alan and Maurice King, Dick Clark, Sally Field, Shashi Kapoor, the Ramsey Brothers, Sal Mineo, R.D. Burman, Nora Aunor, Clint Walker, Jay North, Barbara Stanwyck, Merv Griffin, Donald O'Connor, Stu Phillips, Tina Revilla, Kiran Kumar, Yogita Bali, Nutan, Ismail Merchant and James Ivory.
This site is a tribute by fans to Sajid's memorable and enjoyable entertainment career. Today, Sajid leads a quiet life in Mumbai, India where he lives near the Arabian Sea. Sajid has also enjoyed travelling to Goa and southern India. Since the 1970s, he has lived in places such as Los Angeles, California and London, England. Sajid celebrates his birthday on March 23rd, though magazines used to list it erroneously as December 28th. Sajid is sincere in his thanks to fans for remembering him. Join us in this celebration of Sajid's career and this chance to thank Sajid for the memories.

Website designed by Lora and maintained by Lora & Sue. EMAIL: webmaster@sajidkhan.com
This is a non-profit website and no attempt is made to supercede any copyrights held.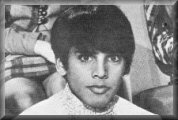 Sajid has visited this website from time and time and comments, "It's amazing, thanks!" We hope you enjoy the site, too!

SAJID KHAN