SON OF INDIA (1962)
CREDITS:
Sajid Khan as Gopal
Kumkum as Kamala (Gopal's Mother)
Kamaljeet
Supporting Cast: Jayant, Ruby Mayers, Kumar, Kanhaiyalal, Tun Tun, Murad, Mukri
Produced and Directed by: Mehboob Khan
Music Director: Naushad
Photography: Faredoon A. Irant
Story by: Mehboob Khan
Music Director: Naushad
Songs: Shakeel Badayuni
Art Direction: D.R. Jadhav and Ram Yedekar
Assistant Directors: Chimankant Gandhi, Akbar Ali, Nazar Ahmed, Wajid Hussain Khan, Abdul Kadar Amin
Playback Singers: Lata Mangeshkar, Mohammed Rafi, Shanti
Mathur, Geeta Dutt
Length: 155 M, Released on DVD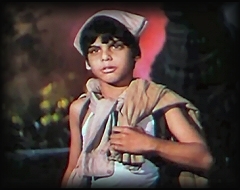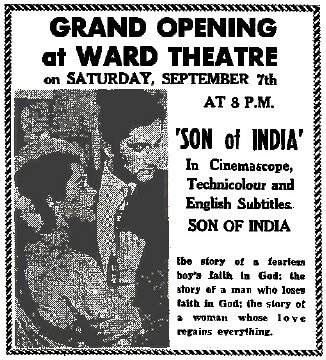 SYNOPSIS:
The story of a young boy, Gopal, who stays true to values of honour and honesty, taught to him by his mother, Kamala. When Kamala's husband marries her for money because of debts owing to loansharks, he feels guilty and leaves after seeing how much Kamala loves him. Five years later, Gopal finds his remorseful father in the city, and the family is re-united, but not after harrowing experiences with the villains.

SON OF INDIA was the last film produced and directed by Mehboob Khan who passed away in 1964. Always an innovator, Mehboob Khan utilized cinemascope. When film theatres in India did not have the equipment to run the film, he provided the necessary equipment at great cost.

SON OF INDIA is a lavish film, with sweeping camera shots and large crowd scenes. Sajid has several memorable musical numbers in the film, particularly "The Mokey Dance" ("Insan Tha Pehle Bandar") and the patriotic children's song, "Nanha Munna Rahi Hoon". While some film critics found the plot complicated, they lauded Sajid's performance as Gopal.